Klinik Pergigian Hon, Temerloh
General, Cosmetic, and Restorative Dentistry
Call The Office
Office: (+6) 09-2961859
Mobile: (+6) 011-56261859
Office Location
No 3, Tingkat 1, Jalan Semantan 1,
Lurah Semantan, Temerloh, Pahang
(Located Near Old Bus Station, Above Oscar Photo Shop)
Welcome to Our Practice
Klinik Pergigian Hon is an established team-based dental practice comprising general dental surgeons and supported by a wide network of clinics across the Malaysia. In line with our group's vision to be "Your Trusted Partner for Dental Health", Klinik Pergigian Hon is dedicated to providing the highest standard of professional care and service.
Always at the forefront of the latest advances in dental science, our dentists provide a comprehensive range of services to prevent, diagnose and treat dental and oral diseases.
Klinik Pergigian Hon are EMAS and KOSMA approved clinics. members who qualify for will receive subsidies for dental treatments that are covered under EMAS and KOSMA .
As a member of the Malaysia Dental Association, our dental surgeons have access to the nest medical expertise from the all around Malaysia, right here in Temerloh.
Latest Techniques
Our dentists is scheduled for attending conferences and sending for courses to polishing & updating the dentist skill. We ensure our dentist provide you the best & ecient treatment to you.
Innovative Technology
To provide the best & suitable treatments to our patients, we are keep our tools & equipment update to the standard. We believe that "Great service requires the right people and the right service tools"
Certified Experts
Our dentists is all register & recognised by MDC (Malaysia Dental Council) which is the council that under control of the MOH Malaysia
Preventative Dentistry
Want to have strong and nice teeth for your lifetime? Preventive dentistry is the practice of caring for your teeth to keep them healthy. This helps to avoid cavities, gum disease, enamel wear, and more. Check out our latest Dental Spa Package now!
Costmetic Dentistry
Don't like the shape of your teeth adn gums? Cosmetic dentistry is generally used to refer to any dental work that improves the appearance of teeth, gums and/or bite. It primarily focuses on improvement in dental aesthetics in color, position, shape, size, alignment and overall smile appearance.
Orthodontics (Braces)
I have crooked teeth. My smile is not beautiful. Gigi Jongang? Orthodontics is a specialty of dentistry that deals with the crooked teeth and jaw. It involves the use of dental braces to slowly move the teeth and jaws. Our orthodontic partners are American Orthodontic and SIA Orthodontic Italy
Tooth Whitening
Yellow Teeth? Dark Teeth? Coee Stain? Not a problem anymore! Call us for our special ZERO side effect whitening process for instant white teeth!
Emergency Care
Ever had a fall and your front tooth have only half left? Do not panic and give us a call for the correct solution to restore it back to the original state
Dental Implants
Loose denture? Cannot chew your food properly? Contact us for more information to know how painless state of the art implant can change your life!
Don't rush when you brush!
Average you are required to brush your teeth about 2 minute each time for perfectly clean and to keep your oral well & healthy
Visit your dentist once in 6 months
Our dental professional will check your overall oral health for any trouble areas. Might also perform cleaning, to remove any plaque and tartar buildup as well as polish your teeth.
Don't Forget to Floss!
Regularly ossing is a great way to check your mouth for potential cavities, as well as swelling or redness. It will also make your teeth look brighter by removing plaque and excess food that you may not spot in a mirror.
Dr. Jonathan Hon
Principle Dentist, Director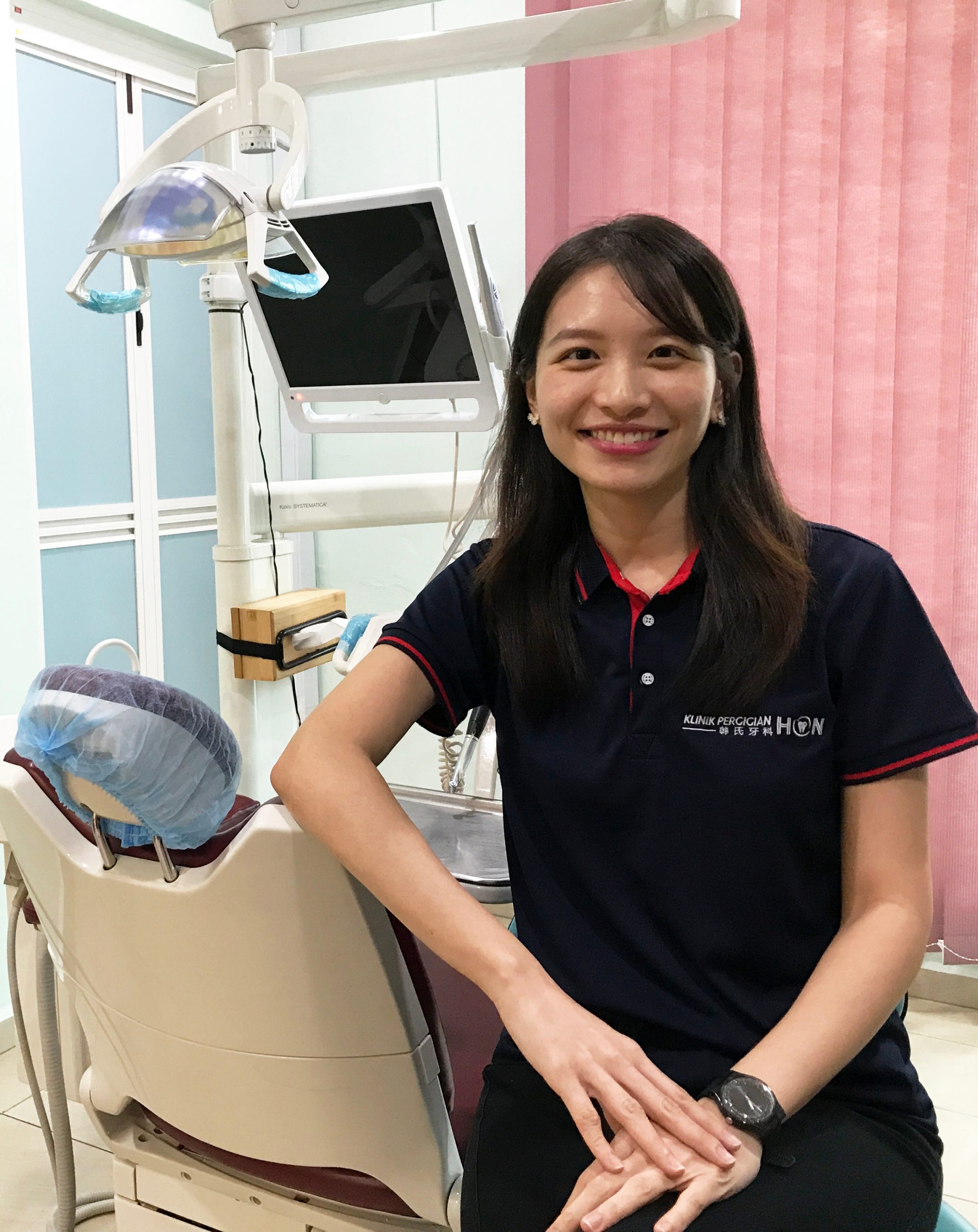 Dr. Stephanie Wong
Dentist
Dental Care for The Whole Family
Dental Care for The Whole Family
We provides painless dentistry and specializes in creating wonderful white smiles for you and your family.
Orthodontic Care (Braces)
We are A Full Service Dentistry Practice
When you visit Klinik Pergigian Hon , you can expect to experience an entirely new way of caring. Our goal is to change the way you feel about visiting the dentist, and we do everything we can to help you feel at ease and achieve a beautiful, healthy smile.
Frequently Asked Questions
Do I need to arrive early for my first appointment?
Yes. Please arrive 10-15 minutes early to ll out any remaining patient forms.
Why should I go to the dentist regularly?
Most of us do not see a dentist on a regular basis. we are only go when they have a problem. This is known as "crisis treatment" versus "preventive treatment." While these we may feel are money saving action, but often it ends up costing more in dollor and time. This is because many dental problems do not have symptoms until they reach the advanced stages of the disease process. An example is tooth decay.
 Tooth decay often does not hurt until it gets close to the nerve of the tooth. It is not uncommon to see a patient with a huge cavity who has never felt a thing. The dentist can usually detect a cavity 3-4 years before it develops any symptoms. This early detection can help you prevent root canal treatment.
Why does the dentist take X-rays?
Many diseases of the teeth and surrounding tissues cannot be seen when the dentist examines the mouth. An X-ray examination may reveal:
 small areas of decay between the teeth, below existing restorations (fillings), infections in the bone, periodontal (gum) disease, abscesses or cysts, developmental abnormalities, some types of tumors
 Finding and treating dental problems at an early stage can save time, money and often unnecessary discomfort. X-rays can detect damage to oral structures not visible during a regular exam. If you have a hidden tumor, X-rays may even help save your life. Dentist will evaluate your need for X-rays based on the conditions present in development. There are many benefits to having X-rays taken. Any additional questions or concerns should be discussed with your dentist.
How long will my first appointment last?
It varies, but please plan on 1 to 1.5 hours for the first visit.
What can I do about sensitive teeth?
Sensitivity toothpaste, which contains strontium chloride or potassium nitrate are very effective in treating sensitive teeth. After a few weeks of use, you may notice a decrease in sensitivity. Highly acidic foods such as oranges, grapefruits and lemons, as well as tea and soda can increase tooth sensitivity, and work against sensitivity toothpaste. If you do not get relief by brushing gently and using desensitizing toothpaste, see your dentist. There are special compounds that can be applied in-office to the roots of your tooth to reduce – if not eliminate – the sensitivity. High-fluoride containing home care products can also be recommended to help reduce tooth sensitivity.
Ask our friendly staff for more information on sensitive teeth.
How long will the results of teeth whitening last?
Like other investments, if you whiten your teeth, the length of time you can expect it to last will vary. If you smoke, drink red wine or coffee, or consume other acid-containing foods, your bright smile may begin to yellow more quickly than you expect. In general, a teeth whitening procedure can last up to a few years. And even though the results can fade, occasional touch-ups can be done to regain luster.
Ask our experienced staff about the long-term benefits of teeth whitening.
I have visited many Dentists before but this Klinik Pergigian Hon Termeloh has the "Special" in my Heart. The service is par excellence professional and extremely reliable treatment.
The Klinik is equipped with the latest state of art equipments and technology is well up todate that one feels so good and peace of mind.
Very Strongly Recommended 👍
Hasil kerja yang kemas…explanation yang baik &  mudah difahami..peramah & mesra senyuman oleh warga klinik pergigian hon…akan datang sini lagi untuk kesihatan gigi secara bertusan.
In my life.. I feared most going to a dentist. But after visiting Klinik Pergigian Hon several times.. My fears are gone. I did not feel any pains or discomforts after tooth extractions n fillings. He handled all treatments with extra care and patience.
Phone Call
Office: (+6) 09-2961859
Mobile: (+6) 011-56261859
No 3, Tingkat 1, Jalan Semantan 1,
Lurah Semantan, Temerloh, Pahang
Working Hours
Monday-Friday: 9am-6pm.
Saturday: 9am-5pm
Free Consultation
Call us for a free checkup and have a brand new experience in your dental visit.